The WordPress community is something of a joy. Folks are kind, helpful and, frequently amusing. WordCamps are the apogee of kindness, helpfulness and – amusing-ness.
My hometown WordCamp is happening in just a few weeks, and the excitement is mounting! I have now an attendee badge! Shiny! See: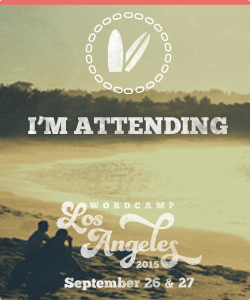 Attending a WordCamp will nourish your hungry WordPress soul, quench your thirst for awesome plugins, and satisfy your need to commune on subjects such as security, and best practices.
Though tickets for the 2015 Los Angeles WordCamp may be hard to lay hands on, please look for and attend a WordCamp event in your area!   You'll be glad you did!